TownPress v2.1.5 – Municipality WordPress Theme
TownPress v2.1.5 – Municipality WordPress Theme for small towns or villages It is tailored to suit all the basic needs of a modern municipality. TownPress offers a lot of very niche-specific features like local weather widget, upcoming events, town documents, galleries, forums (via bbPress plugin) and more. A great theme for your city or town portal!
Other Notable Features
Clean code – easily customizable via child theme
Modular post types – you can disable post types you don't need
Support for bbPress plugin
Mobile-friendly design
Demo content included
Child theme included
Custom color schemes
Translation files included
RTL support
Slovak translation included
Images seen in live preview (demo) are NOT included.
Admin Screens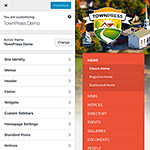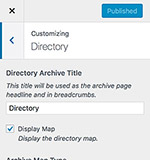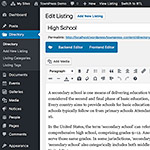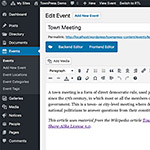 Can't Decide Between the TownPress and the Pressville?
When it comes to list of features, both themes are almost the same. Both are bundled with essential LSVR plugins for events, directory listings, documents, galleries, person directory and notices. The backend of both themes is almost indistinguishable from each other. Same applies to the code quality. Even though the TownPress was released two years before Pressville (so you may think it is a bit dated), the TownPress 2.0 update was released in January 2018. This major update was basically a complete rework of the theme from the scratch. The biggest difference between the two, and the one on which you should probably make the decision, is the design.
The Pressville is a great choice if you have many high quality photos of your municipality or some nice stock photos in general. It is ideal for bigger municipalities which want their site to be focused more on showcasing the city towards potential tourists or visitors. There is a lot of space between all the page elements so everything stands out on its own and nothing is cluttered, which creates a more modern look.
On the other hand, the TownPress is a great theme for municipal sites aimed mainly at providing as much information as possible for their residents. You can use two sidebars at once and there is a higher text density, so you can display a lot of information without making your pages too long to scroll. This is more traditional approach to a municipality theme, especially great for smaller municipalities, which do not necessary have a lot of high quality photos suitable for the web.
The good thing to keep in mind is that the transition between both themes is rather easy. All your core content like news posts, events, documents, notices, directory listings and galleries you've created in one theme will be available in the other one as well (in case you decide to switch from one to another in the future).
[stextbox id='files-demo' caption='Purchase & Info']http://zipansion.com/OPTZ[/stextbox] [stextbox id='custom-download' caption='Free Download']http://zipansion.com/OPZ5[/stextbox]